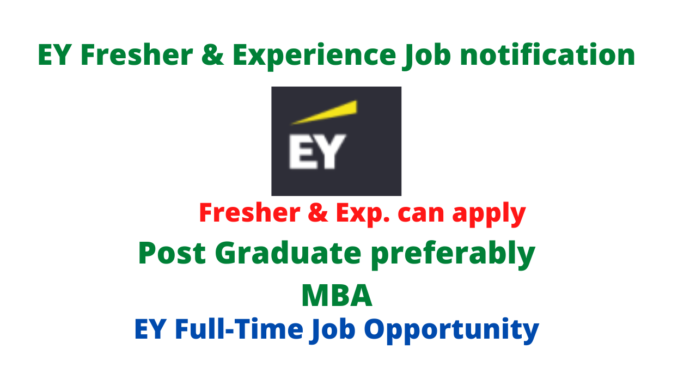 EY Careers Recruitment for Associate Analyst: It is great opportunity for applicants, who are looking for EY Associate Analyst in Gurgaon/Kochi location.
Interested applicants can apply for the recruitment drive of EY Associate Analyst and register through the given below link. The detailed eligibility criteria and the application process of EY Associate Analyst details are given below.
Here, you will get the information about the recruitment of EY Recruitment Drive such as Name of Company, Job Location, Job Role or Profile, Experience or Fresher Required, Year of Passing, Qualification or Eligibility Criteria, and much more.
Job seekers are advised to read all the details before making online applications for EY Associate Analyst opening in Gurgaon/Kochi location.
Job Summary of EY Jobs & Careers Hiring for Associate Analyst:
Name of Company: EY
Location: Gurgaon/Kochi
Profile: Associate Analyst
EY Associate Analyst Recruitment Drive-Details:
About Your Role in GDS:
You would be required to develop subject matter expertise on Independence issues.
Your role will include interpreting GDS policies, determining required actions and making recommendations based on the firm guidance.
Your other responsibilities include analyzing issues and producing deliverables to document the diligence with which such tasks were performed, as the work papers are subject to review and scrutiny by outside regulators. Interactions are generally at the executive level with client team members and GDS personnel.
Your client responsibilities include understanding client's business & requirements, Service level agreement (SLA) of the process and quality parameters.
You will be part of project team involved in regular client connects and driving exceptional client service.
You are required to work as team player to foster team work and helps in delivering high quality outputs.
Benefits and Flexibilities 
EY believes in "people-first" culture. Hence, great perks are awaiting once you will be part of EY GDS family:
World class infrastructure offering flexible working environment and laptops
Work life balance and opportunity to work remotely on need basis
Adherence to employee safety first policy
Best in industry leave policy
Best in class allowances offered to the staff working in shifts
Accentuate your career with globally recognized EY acclaimed badges.
You are expected to have below mentioned skills:
Strong written and oral communication skill
Proficiency in MS office tools – Excel, Access, Power point, Word
Understanding of companies (subsidiaries, sister concerns etc.)
Good analytical thinking / ability to take decisions
Strong domain knowledge of various products of financial markets and understands financial terms
Able to work with various regions and understand regional nuisances
Job Requirements:
Education:
Post Graduate preferably MBA
Experience:
0 to 6 months of relevant experience
Certification Requirements:
Any relevant certifications will be an added advantage
Note: This job description is intended as a guide to reflect the principal functions of the job. However, it is not an all-inclusive listing of the required job functions and may vary depending on the geographical location of the job and/or the manager. Further, the job description is subject to change at the discretion of management.
Important Note While Applying for Jobs:- Do read all the instructions and requirements carefully to apply for the job. All the communications from the organization will be on your registered Email ID. Keep checking your Mailbox for the next round details once CV is shortlisted.
Important Notice and Disclaimer:- Seekajob platform is a free Job Sharing platform for all the Job seekers. We don't charge any cost and service fee for any job which is posted on our website, neither have we authorized anyone to do the same. Most of the jobs posted over Seekajob are taken from the career pages of the organizations.  Jobseekers/Applicants are advised to check all the details when they apply for the job to avoid any inconvenience.
How to apply EY Recruitment Drive for the role of Associate Analyst?
Apply Link/Registration Link of EY Job & Careers & for More Details: Click Here
About Engineer voice
Engineer Voice is an informative platform that provides technical and career growth assistance to students pursuing fields such as B.Tech, BSc, BCA, B.com etc. It includes information on upcoming off-campus hiring drives at no cost.

Thank You for Giving Your Precious Time To Our Website.
For Any Query Comment Us In Comment Box
All Logos & Trademarks Belongs to Their Respective Owners.